The origin plan for this trip was 8 weeks Scandinavia & the Baltic States.
The the Corona shit started and for a long time it was not sure if a motorcycle trip
through these states is possible.
Finally Finnland opened 13th of July
and Norway 15th of July
Sweden was open all the time.
So my friend Clemens & I decided to shorten the trip time
and skip the Baltic States.
So the plan is now heading north through Denmark & Norway to the Nordkap.
The way back will be through Finnland on the Trans European Trail.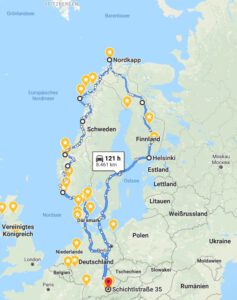 Else is ready 🙂
All necessary work is done, also new tires are mounted 🙂